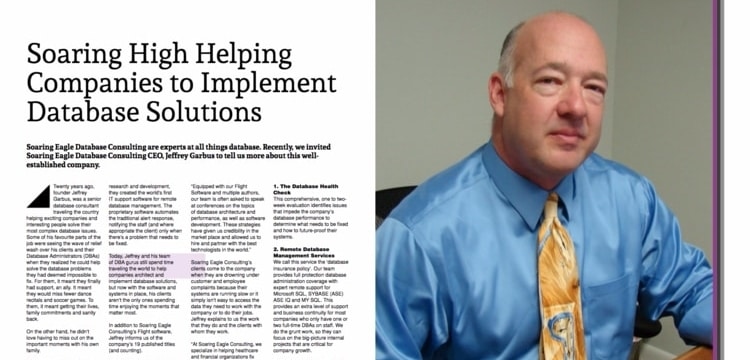 Editor's Note: This post was originally published on TMT News, a news site that shares the latest information on technology, media, and telecommunication. 
Soaring Eagle Database Consulting are experts at all things database. Recently, we invited Soaring Eagle Database Consulting CEO, Jeffrey Garbus to tell us more about this well-­established company, and their database solutions.
Twenty years ago, founder Jeffrey Garbus, was a senior database consultant traveling the country helping exciting companies and interesting people solve their most complex database issues. Some of his favorite parts of the job were seeing the wave of relief wash over his clients and their Database Administrators (DBAs) when they realized he could help solve the database problems they had deemed impossible to fix. For them, It meant they finally had support, an ally. It meant they would miss fewer dance recitals and soccer games. To them, it meant getting their lives, family commitments and sanity back.
On the other hand, he didn't love having to miss out on the important moments with his own family.
One day it dawned on him. If he could develop a software to track his client's database performance from anywhere in the world, he could keep doing the work he loved without missing out on the little league games and school performances.
As a result, he hired a team of expert developers who began designing and building Jeff's dream database solution software platform. After more than four-years of research and development, they created the world's first IT support software for remote database management. The proprietary software automates the traditional alert response, notifying the staff (and where appropriate the client) only when there's a problem that needs to be fixed.
Today, Jeffrey and his team of DBA gurus still spend time traveling the world to help companies architect and implement database solutions, but now with the software and systems in place, his clients aren't the only ones spending time enjoying the moments that matter most.
In addition to Soaring Eagle Consulting's Flight software, Jeffrey informs us of the company's 19 published titles (and counting).
"lf you walk into your IT team's office today, odds are, you'll find one of our books on their shelves. These books cover best practices for performance and tuning database systems and give OBAs comprehensive guides for their database systems including Microsoft SQL, Sybase (ASE) IQ, and MY SQL. To learn more about our books, check out all our titles online today with an Amazon search for Jeffrey Garbus."
"Equipped with our Flight Software and multiple authors, our team is often asked to speak at conferences on the topics of database architecture and performance, as well as software development. These strategies have given us credibility in the marketplace and allowed us to hire and partner with the best technologists in the world."
Soaring Eagle Consulting's clients come to the company when they are drowning under customer and employee complaints because their systems are running slow or it simply isn't easy to access the data they need to work with the company or to do their jobs. Jeffrey explains to us the work that they do and the clients with whom they work.
"At Soaring Eagle Consulting, we specialize in helping healthcare and financial organizations fix these issues by ensuring their highly-regulated data is accessible, maintained and performs well. This is cone by tackling complicated database performance issues and proactively setting up processes to protect their data from adverse events such as corruption, ransomware attacks, and application issues."
There are three core consulting services offered at Soaring Eagle Database Consulting:
1. The Database Health Check
Our database health check is a comprehensive, one to two-week evaluation identifies issues that impede the company's database performance to determine what needs to be fixed and how to futureproof their systems.
2. Remote Database Management Services
We call this service the 'database insurance policy'. Our team provides full protection database administration coverage with expert remote support for Microsoft SQL, Sybase (ASE) IQ, and MY SQL. This provides an extra level of support and business continuity for most companies who only have one or two full-time DBAs on staff. We do the grunt work, so they can focus on the big-picture internal projects that are critical for company growth.
3. Database Consulting
From performance and tuning to developing business intelligence solutions, our expert OBAs analyze, recommend and implement solutions to solve a company's most complex database needs.
"We specialize in providing expert advice, services, and products for companies who rely on real-time database performance to be accessible and accurate for all users 24 hours a day, 7 days a week, 365 days a year. Our team are problem solvers who are always searching for the best and fastest way to answer database puzzles. They are positive, fun, compassionate people who love life."
When discussing their approach to undertaking a new project or working with a new client, Jeffrey reveals the company's trusted tried and developed a 5-step method.
"Our clients need to speed up their systems, decrease complaints, and they need it done yesterday. Over the last 20 years, we've developed a tried and true 5-Step Methodology for making this happen as fast and efficiently as possible:"
Step 1: The V Formation Stage
We start with an analysis to get the company's internal teams and systems flying right. Then, we develop maintenance strategies, disaster recovery plans, and backup protocols to protect their data from future problems.
Step 2: The Stabilization Stage
Next, we implement these strategies to address the problems and optimize the database to improve the system's performance. We analyze the results and then fine-tune the company's systems to perform at maximum efficiency.
Step 3: The Elevation Stage
After implementation, our team reviews the work completed to ensure optimal performance of the company's data and systems. Then, we work with them to understand their business goals and develop strategies to achieve them.
Step 4: The Validation Stage
Utilizing our proprietary Flight software, our clients can easily see the health of their databases from anywhere at any time. They can also see our team monitoring their system's jobs and alerts, validating system efficiency, and quickly addressing any issues.
Step 5: The Evolution Stage
As a company's data grows, so should its protection and efficiency plans. We make sure our client's data is delivered seamlessly to their customers and employees through continual maintenance, monitoring and performance audits.
At Soaring Eagle Database Consulting, their mission is: "To enrich the lives of IT Professionals by getting them back to the moments that matter."
Business runs better when backed by a strong IT team. But, like any team, the best players are those who have their head in the game, as Jeffrey points out.
"We believe it's impossible to give it your all if you don't have a healthy work-life balance, and this plight is common within the IT field. That's why Soaring Eagle Database Consulting creates products and services that allow our employees and clients to find a healthy balance between work and play."
"It is this belief that was the main driver behind our team's development of the Flight software. We are constantly talking with our clients to determine ways that we can improve Flight. Another thing is that we look for ways to make it easier to use, to make the reporting simple to understand, and ultimately, make it a tool that leads to less time thinking about their databases, and more time on projects that help their company grow."
"In addition to helping our clients through our Flight software, we also focus on helping our employees achieve a healthy work-life balance. One of our company goals this year is to end the year with our DBAs averaging only 40 hours a week, which is about 14% lower than the national average in the US according to a Gallup study. To ensure we reach this goal, we do quarterly audits of our team's productivity and work logs to find ways we can optimize their workflows with technology solutions. Then we build them!"
"At the end of the day, we believe our company has so much more to offer than database consulting and management services. We offer freedom. Freedom from feeling like the hypothetical database-shoe could drop at any time ruining a client's day, week, or worse, their business. We give clients and employees the freedom to leave the office at the end of the day knowing they can go to their kid's dance recital without worrying if they will get a panicked phone call forcing them to leave before little Suzy goes on stage."
It is important for a company to stand out amongst its competitors. For Soaring Eagle Consulting, their biggest differentiator is their Flight software as well as having one of the most experienced teams on the planet, as Jeffrey explains.
"When you call most of our competition, you immediately get transferred to their call center where you talk to someone who may or may not know anything about your account, or in fact, databases in general. When our clients call, they have their own unique phone line that puts them in immediate contact with a Senior OBA with a minimum of 20 years of real-world experience; someone who knows who the customer is and how the customer's databases work, 24 hours a day, 365 days a year. Not only that, but our experts won't fill your ear with jargon that you don't understand."
All our technical staff have backgrounds as consultants working directly with clients, and they are experts in dialing up or down - their level of technical speak to meet the wants and needs of the client. In addition to on-call access, our team also conducts weekly calls with clients to review any pertinent information, answer questions, and ultimately ensure the client is happy with the level of service provided by our team.
"Another differentiating factor for us is our collaborative and training-focused work style. We don't just go into a client's systems, improve the performance and leave."
Our expert DBAs spend time coaching and training our client's in-house DBAs to ensure they are equipped with the knowledge and information they need to do the very best job possible. After all, most companies doing $50+ million a year, only have one, maybe two, DBAs. It's often a long, lonely job with little understanding from upper management. We help provide these employees with the support they need to succeed in their roles, in the long term.
"In addition to our top-notch team, we have a rule that we live by at Soaring Eagle Consulting and this sets us apart from the competition. Our Rule is: We only provide service to clients where we add unique value. Why is this a differentiator? Because we never take on a project just to stuff our pockets with additional profits. We care about our client's success and if we know someone else can provide more value than we can, we help them find that person or team, to create the best possible solution for their needs. This rule has led to strong partnership-style relationships with our clients - something you rarely find with a service provider."
Whilst working within such a dynamic industry, it is essential that the techniques employed are able to keep the company ahead of emerging developments. Jeffrey highlights how Soaring Eagle Database Consulting is passionate about continuing education.
"From attending industry conferences, like the Microsoft Inspire Conference, to taking online courses to expand our knowledge, we are constantly learning to stay ahead of the emerging technology that impacts database performance and tuning."
"In addition to our continuing education practices, we also partner with other IT companies who train our team on their products and services as well. Currently, we are working with Microsoft to train our team in the Azure environment. They are helping us become experts in this space, so we can provide their clients with even better solutions and service."
Behind a successful company is a talented, well-informed, experienced workforce who are helping drive the business to great heights. For Soaring Eagle Consulting, Jeffrey praises the team and details the company's approach to hiring staff.
"When most people think about database consultants, they think of boring, stodgy computer geeks. Although the term geek might still be applicable, the rest of the stereotype couldn't be farther from the truth at Soaring Eagle Database Consulting. We believe life is too short not to have fun at work. We entertain each other on a daily basis and our clients say that they enjoy working with us. We are optimistic, cheerful, and often downright amusing if we do say so ourselves! It's easy to tell when someone is miserable at work, so we strive to build an environment that promotes having fun while doing great quality work."
"Ensuring that our team is equipped to and is providing the best possible service to our clients is an on-going process for us. We employ a full-time Client Satisfaction Officer whose sole job is to ensure it's easy and enjoyable to do business with us. The CSO reviews our client reports, processes, and toolsets daily to ensure we are honoring our commitments to our clients, and doing the very best job possible. When the CSO makes a recommendation for how we can improve our client experience, our team implements the changes quickly, soliciting feedback from our clients to ensure that it is well received. It is part of the Soaring Eagle culture to keep our eyes and ears open for ways we can improve the customer experience."
"Due to our high standing in the database and IT communities, we have had a lot of success in hiring the very best talent in the industry. When we have a new position open, we primarily use LinkedIn to promote it. Our leadership team has thousands of LinkedIn followers, so we push out new positions through our networks and are immediately inundated with resumes."
"Over the last 20 years, we have developed a four-stage interview process that all applicants go through. The first step is a technical test created by our expert DBAs. If they pass the skills test, the next stage of the process is a standard HR interview where we ask questions to better understand who they are, what they are looking for in a position and explain what we are looking for in this role. Next, they are invited to what we affectionately call an "in-house" interview. In this interview, they come to our office to meet our team and get to know what Soaring Eagle Database Consulting is all about - to see how they synergize with the environment and our team. If they pass this round, we do background tests and drug screenings. Finally, when we are confident they will be a good fit for our team - with high levels of integrity, responsibility, and accountability, we make them an offer."
"We asked a few team members what attracted them to Soaring Eagle, here is what they said: 'I joined Soaring Eagle for several reasons. First, it was a great opportunity and provided a better work life balance than I had in my past job. I valued the integrity of leadership and knew the position would be both challenging and rewarding at the same time. They offered me a position with endless potential for growth,' says Royce Cavitt, Executive Director of Sales at Soaring Eagle Database Consulting."
Dan Noble, Principal Database Consultant says, "I was looking for an environment that I could expand my knowledge working with gifted people solving multiple challenges. Soaring Eagle Consulting offered just that."
"Did you know Soaring Eagle is headquartered only haft a mile from the beaches in Tampa Bay? Combine this and a flexible schedule that allows me to fully contribute my talents and take advantage of the great weather and beautiful natural resources, and they were the perfect fit for me," says Nancy Brown, Administrative Assistant.
As for the industry, Soaring Eagle Consulting works within, Jeffrey discusses developments that he foresees and details how the company will adapt around them.
"Our industry is always changing. There are four major shifts happening in the database industry that business owners and executives need to be aware of, to stay ahead of their competition."
The Cloud is Changing Business Operations
The world is moving to the cloud, with a heavy push from the database management system (DBMS) vendors. This will change the way organizations operate, but it won't change the need to manage data. We will continue to position ourselves to assist our clients in this move and in managing the data post-migration.
Organization Data is Growing at an Exponential Rate
The amount of data our clients need to process has continued to snowball. Small companies that used to measure their data in megabytes are now measuring in gigabytes, terabytes, and even petabytes. As experts in scalability, as well as in the measurement and anticipation of growth, we assist our clients so that growth is a smooth transition, rather than a limiting factor.
We are living in the Age of Audits
Regulatory agencies are coming up with new acronyms almost as fast as we adhere to the older standards: SarBox, HIPAA, PCI, PHI, to name a few. We have one client that deals with 12 distinct audits a year and has built multiple systems for the sole purpose of getting information to auditors. At some point, these acronyms will combine to a single standard, but in the meantime, we assist our customers in continuing to keep an eye on the performance of the data, while adhering to standards and the safety of their data.
Companies need more storage and they need it now
With the need to query larger amounts of data, storage needs are also on a huge upswing. The cost of enterprise-level flash storage has dropped and is often a better solution than the traditional hybrid storage solutions of the past. We often suggest this solution to customers experiencing growth or I/0 contention issues. Recently, we had a client who purchased flash storage from a partner of ours who replaced their 3-rack system with a half-rack - dramatically reducing electrical, cooling and footprint costs and giving them a full ROI in just twelve months."
Looking ahead, Jeffrey is excited to announce that Soaring Eagle Consulting will be releasing their database management tool, Flight, to all DBAs across North America and Europe in the fourth quarter this year.
"The software platform will be competitively priced and available on mobile devices, allowing DBAs to manage multiple servers easily and effectively from the palm of their hand. It is our dream that DBAs around the country will be able to leave the office at the end of the day less stressed - knowing Flight has them covered."
"In addition to our national launch of Flight, we are also expanding our database expertise into Microsoft Azure, and Postgresql. Our team continues to grow as more clients entrust us with their operational database management."