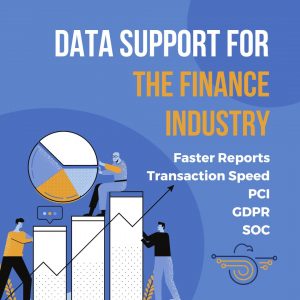 Why is Data in the Finance Industry Different?
*In the finance industry data Performance, Interoperability, Visibility, and Compliance are KEY to success.
*Increasing transaction speeds, adding organization to unstructured data, and creating real time dashboards to enhance decision making are Essential to company viability and growth.
Finally, a Data Solutions Provider that GETS the Financial Industry

100% PCI and GDPR Compliance

Improve the performance of internally built reports, jobs, queries, as well as Data Platforms, ERPs, and software like JD Edwards  by tuning the underlying SQL/Oracle/Cloud servers.

Dig into your Big Data with POWER BI Dashboards

Visualize your Data Reporting

Market Basket Analysis

Maximize Server Uptime

Experts in improving the SPEED and RELIABLILITY of queries, reports, and processing

Faster Transactions means more PROFITABILITY

Secure, protect, and MAINTAIN all data ALWAYS (DON'T PAY OUT RANSOMWARE)

Reduce server/cloud footprint by reducing number of instances WITHOUT sacrificing performance

Save money by reducing in house IT Staff without sacrificing business knowledge

Save on licensing by reducing Data Sprawl
For more on how Databases Affect your Applications
Soaring Eagle Data Solutions is the best Managed Service Provider for the Finance Industry in Tampa, Florida. Our Database Administrators will maintain, monitor, and secure your SQL, Oracle, Azure, AWS, and Cloud environments so you can rest easy.