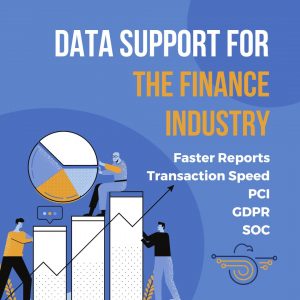 Soaring Eagle Data Solutions has over 20 years of experience p

roviding remote database managed services to small and enterprise Banks, Credit Unions, Insurance companies, Payment Processing, and other segments of the Finance industry.
We save our clients stress, money, and time by improving the performance of their data environments. Soaring Eagle's Data Support Specialists keep you prepared for whatever lies ahead.

Finally, a Managed Database Services firm that GETS the Financial Industry
100% PCI and GDPR Compliance

Dig into your Big Data with POWER BI Dashboards

Visualize your Data Reporting

Market Basket Analysis

Maximize Server Uptime

Experts in improving the SPEED and RELIABLILITY of queries, reports, and processing

Faster Transactions means more PROFITABILITY

Secure, protect, and MAINTAIN all data ALWAYS (DON'T PAY OUT RANSOMWARE)

Reduce server/cloud footprint by reducing number of instances WITHOUT sacrificing performance

Save money by reducing in house IT Staff without sacrificing business knowledge

Save on licensing by reducing Data Sprawl
Soaring Eagle Data Solutions is the best Managed Service Provider for the Finance Industry in Tampa, Florida. Our Database Administrators will maintain, monitor, and secure your SQL, Oracle, Azure, AWS, and Cloud environments so you can rest easy.