Database Managed Services: Enhancing and Augmenting In-House IT Teams with Soaring Eagle Data Solutions Remote Managed Services
Welcome to Soaring Eagle Data Solutions, your premier destination for top-tier Database and Data Solutions tailored to Small and Medium-sized Businesses (SMBs) and Enterprises (SMEs). Our exceptional Database Administration (DBA) Managed Services offer a distinct advantage to companies grappling with data scalability challenges or constrained in-house Database Admin resources.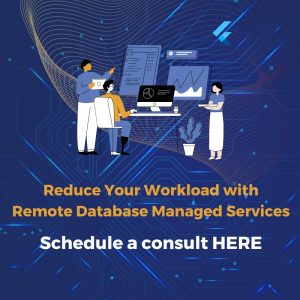 Why Opt for Our Database Administration Managed Services?
Scalability and Usability: Our expert team excels at addressing the surging data requirements of SMBs-SMEs. We implement scalable architecture that maximizes server uptime while reducing cloud costs, SQL licenses, and hardware needs.
Operational Efficiency for SMEs: SMEs often find themselves stretched thin between data maintenance, client demands, and growth initiatives. Our seasoned DBAs take care of your data environment, freeing your in-house team to focus on strategic projects.
Affordability: Your IT budget is tight, and probably not growing in proportion to your company or the needs of your Data environment. For less than the cost of a full time employee you can have a team of specialists working 24x7 for you.
Your Business can be scalable, secured, and optimized daily with Soaring Eagle Data Solutions' full operational Data Engineering specialists.

Key Advantages of Soaring Eagle Data Solutions:

Unload the Burden: Leverage our 24/7 Database Support Engineers for tasks like maintenance, tuning, and data projects. This empowers your full-time staff to propel company growth.
Cost-Effective Solutions: Instead of maintaining a team of 5 full-time DBAs, our expert support comes at a fraction of the cost of a single DBA. Optimizing your database architecture for performance allows in a reduction of software licenses, hardware AND cloud usage.
Focused Teams: Allow your Sysadmin and DevOps teams to concentrate on their core responsibilities. Our specialists manage data and database support and engineering seamlessly.
Enhanced Data Security: Our robust practices ensure your business data is shielded from potential ransomware threats. 
Optimized Performance: Whether it's SaaS products, reports, or queries, our DBAs excel at fine-tuning databases for peak performance. Better data performance means more transactions, more clients processed, faster call center services, and a better running business.
Seamless Recovery: Our managed services encompass 24/7 server monitoring, preemptively averting issues and enabling swift recovery during emergencies. Our expert data security team will help define your RTO and RPO, then implement and test to be certain you are ready for whatever comes.
Unrivaled Availability: Our support is accessible around the clock, regardless of the time zone or holidays, ensuring uninterrupted service. Submit tickets via phone or email.
Cross-Platform Expertise: From On-Prem to Azure, AWS, SQL, Oracle, POWER BI, Data Warehousing, and beyond, our team thrives in diverse and Hybrid technology landscapes. Don't hire a generalist, use specialists for all of your data technology needs.
Exclusive Monitoring Software: Powered by our proprietary FLIGHT software, we provide continuous environment health monitoring with custom alerts and insightful reports, a distinguishing feature that sets us apart.
Domestic Excellence: All our Database Administrators are based within the continental United States, assuring dependable onshore support.
You can rest easy when you put your Data Environment support needs in our hands. Contact us today for more information.
Common Questions about using Remote Database Managed Services
Questions you Might Have:
What sets your proprietary monitoring software, FLIGHT, apart from other solutions?
Answer: FLIGHT provides round-the-clock environment health monitoring with customized alerts and reporting, giving us an edge in maintaining system integrity.
Question: How do I know your team has the expertise I need to handle Cloud, Hybrid, Oracle, Sql, and more database environments?
Answer: Our team averages 15 years experience as database administrators. Our experts are well-versed in diverse platforms like On-Prem, Azure, AWS, SQL, Oracle, POWER BI. Our Database Consultants and Administrators work with Database Architecture, Data Warehousing, and Performance and Tuning on a daily basis.
Soaring Eagle Data Solutions is a fully onshore data support company based in Tampa Florida. For over 25 years SEDS has provided DBA support to companies around the world, contact us today!
How Does Soaring Eagle Data Solutions address Data Security
We follow industry-leading best security practices to monitor and manage data, including robust protection against ransomware threats. We recommend and sell several SaaS products to improve alerting monitoring and ability to respond to security events.
What is Data Modeling Optimization
Data Modeling Optimization is optimizing the database schema and data model to reduce data redundancy and improve data access and retrieval efficiency.
What is a Hybrid Cloud Environment
A hybrid cloud is a mixed computing environment where applications are run using a combination of computing, storage, and services in different environments. This helps alleviate many of the costs associated with handling massive amounts of data while retaining the security and control over integral components of your IT infrastructure.
What is SQL Server performance and tuning?
SQL Server performance and tuning is a specific skillset for Database Administrators to improve and accelerate the speed of their SQL Server environment. This skillset includes tuning queries, proper indexing, writing proper data architecture, and understanding root cause analysis of data constraints including I/O, deadlocks, and server overload. In general, the idea is to increase the speed of which queries, jobs, and reports are running in SQL Server by improving the underlying code instead of relying on expensive hardware solutions to improve application speeds.
Important note: Not all DBAs are specifically trained for performance and tuning.