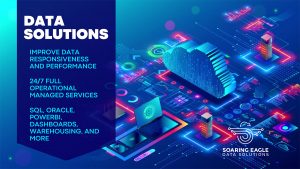 Cloud Data Consultants lead you and your organization to the Cloud. They will Build, Operate, Manage, Maintain, and Support your cloud applications and cloud data environments. They will highlight best practices to protect your servers from outside threats and keep your data and databases from suffering needless downtime.
Our Cloud Consultants will provide the leadership you need to ensure a smooth transition to the cloud, and set you up for long term success.
Cloud Security Experts will ensure you meet or exceed industry standards, prepare you for Security Audits, including HIPAA and GDPR.
Soaring Eagle Data Solutions' Cloud Data Solutions Consultants can help.

When you sign up for Soaring Eagle Data Solutions' professional Cloud Consulting Services, you'll find:
Cloud Vendor Agnostic - Our Cloud Consultants are experts in using AWS, Azure, Oracle, and other Cloud environments.
Cloud Architecture - Set your company up for success by building out the proper cloud architecture for performance, scalability, and cost effectiveness.
Infrastructure and Hardware – Your business's hardware footprint decreases significantly, reducing the required in house tech stack!
Data Warehouses, Data Lakes, Database - Add structure to your unorganized, raw data. Make it accessible and usable
 Data Integration - Make your data communicate with SaaS products, internal reports / jobs / queries, and do it quickly and accurately
Service and Support – We'll always be around 24/7 to serve your needs, and we'll monitor your systems to prevent any problems in the first place. Our Cloud Database Managed Services will keep you within the FIVE NINES for Uptime.
Data protection – With our data backup and security review, you'll never have to worry about losing your data in the event of any disaster. Don't pay out Ransomware or struggle with Natural Disasters! 
Database Consulting Services - Our Data Engineers will answer all of your questions about keeping your SQL Servers, Oracle servers, and the rest of your environment running smoothly. Available on a per project basis.
Tools you can use – When you need to control and manage your systems, we give you easy to use, intuitive tools to help you along the way. Ask for a demo of our SaaS product - FLIGHT. Included for all of our managed services clients, this helps to proactively monitor and manage your Data environment. Works with SQL, Oracle, AWS, and Azure!
Talk to Soaring Eagle Data Solutions today about making these cloud computing services in Tampa, Florida work for you.
Confused about WHAT IS THE CLOUD? Ask the experts at Accenture Here