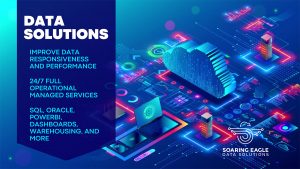 Cloud Data Solutions can help when you need to organize your business and want to protect your computers from outside threats but you're on a strict budget, Soaring Eagle Data Solutions' Cloud Data Solutions Experts can help.
Because our services are fully scalable and available for a flat-rate fee, you'll never have to worry about an IT cost you can't cover.

When you sign up for Soaring Eagle Data Solutions' professional Cloud Data Support Services, you'll find:
Infrastructure and Hardware – Your business's hardware footprint decreases significantly, reducing the required in house tech stack!
Data Warehouses, Data Lakes, Database - Add structure to your unorganized, raw data. Make it accessible and usable
 Data Integration - Make your data communicate with SaaS products, internal reports / jobs / queries, and do it quickly and accurately
Cloud Vendor Agnostic - Our staff are experts in using AWS, Azure, Oracle, and other Cloud environments.
Service and Support – We'll always be around 24/7 to serve your needs, and we'll monitor your systems to prevent any problems in the first place.
Data protection – With our data backup and security review, you'll never have to worry about losing your data in the event of any disaster. Don't pay out Ransomware or struggle with Natural Disasters! 
Tools you can use – When you need to control and manage your systems, we give you easy to use, intuitive tools to help you along the way. Ask for a demo of our SaaS product - FLIGHT. Included for all of our managed services clients, this helps to proactively monitor and manage your Data environment. Works with SQL, Oracle, AWS, and Azure!
Talk to Soaring Eagle Data Solutions today about making these cloud computing services in Tampa, Florida work for you.
Confused about WHAT IS THE CLOUD? Ask the experts at Accenture Here