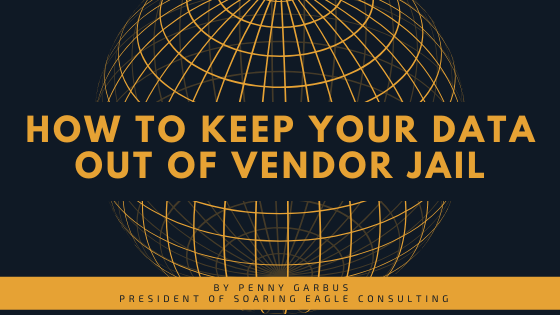 By Penny Garbus, President Soaring Eagle
I have a pet peeve that I share in my "Mining new Gold," that is you really need to make sure as a business leader you need to be in charge of your DATA.
This is not limited to the records, this includes
application code, database schema, data, and any documentation you need to roll
up and manage your environment.
This means if you are outsourcing all your IT work outside
your business you need to give them a to do list. You should get from them a
File source where you have access to the code, including updates as they occur,
database schema and data files. You can do this in one manner by having the
data stored in backup files that you own. The backups can be stored in either a
machine on premises or in another file source THAT YOU OWN, pay for, and
manage.
Then you will be asking for and reviewing these documents
from your IT Vendor. Application Code description, coding standards, roll up
and disaster recovery documentation. Have them work with one of your employees
to show that the Disaster Recovery process works, and that all documentation is
factual. Review the documentation yourself or have n IT savvy person on your
team review the document several times the year, presumably after updates to
ensure the document continues to be accurate and the updates are properly
described.
If you do not do this, then your data is ostensibly in DATA
JAIL. You are stuck and beholding to that vendor. No matter how amazing they
are today. You need to be able to part ways and have the freedom to leave the
environment. If they own your data and control it and you do not, they in fact
own your company's most prized possession.
I am not saying that leaving that vendor will have not costs. If you are in Azure SQL migrating to SQL Server or AWS will cost, you some time and money as you will have to create a migration test plan and get the code changes completed. However, you will be able to make the move. If you wait to do these tasks until you and the vendor are not happy with each other then lawyers' fees will arise, and your stress level will also go up. On the onset have the prenup set and the data procured so you can move on to a new relationship.
"Mining New Gold—Managing Your Business Data: Data Management for Business Owners" can be found on Amazon