5 Easy Things You Should Do To Protect Your Business Today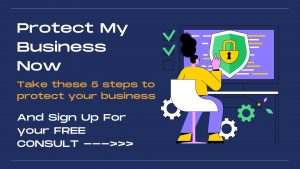 Let's face it – no one likes to think about bad things happening to them, much less plan for them. But since September is National Disaster Preparedness Month, we wanted to give you a quick "brush-up" on some simple things you can (and should!) be doing to protect your business.
1
2
3
4
5
Celebrate National Disaster Preparedness Month With A Free 60-Minute "Protect My Business" Consultation
For FREE, we'll 
Review your business insurance to ensure that you're covered against data loss of any kind.
Determine how well-equipped your company is to take advantage of a move to the cloud.
Test the security of your network against hackers and cybercriminals.
Review your company's Disaster Recovery Plan
Review your Employee Acceptable Use Policy or Internet Policy.
To Schedule Your FREE Consultation
Complete The Form On This Page
Or Call Us Today At 813-333-2107